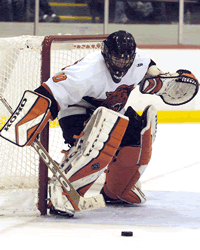 Guimond sat out RIT's final season of Division III hockey due to a brief stint in major juniors.
---
Key Statistics: A five-minute appearance in a Quebec Major Junior Hockey League game in 2001-01 wiped out an entire year of college eligibility for Guimond – that was enough to scare off a number of potential suitors. After sitting out RIT's final season at Division III, Guimond was the Tigers' go-to man in their first season of Division I, playing in 26 games and garnering 83 percent of ice time in the nets. He stopped 91 percent of shots thrown at him and posted a 3.32 goals-against average.
What He Does: Guimond, 24, makes his job look easy because he positions himself well and rarely gives up big rebounds. A sharp glove led to many great saves, including eight in an NCAA record-tying 66-save effort against St. Lawrence on October 28, 2005. Guimond, who plays the butterfly style, moves well from post-to-post but he wants to get better. He does need to improve his puck handling.
The Bigger Picture: Coach Wayne Wilson was thrilled with Guimond's efforts as a "rookie" and doesn't expect any letdown. Guimond kept RIT in just about every game he started – the Tigers were involved in 11 one-goal decisions (1-10 record), and Guimond was on the short end of five consecutive one-goal games in February. Once Wilson's Division I recruits begin to mature, count on those numbers to turn around.
Guimond on his move from juniors to Div. I hockey: "I prefer college hockey way better. The caliber is better here than junior in Canada. It's faster. It's more disciplined. There is the school side as well – what I like a lot is the crowd. The atmosphere is incredible (and) the fans are crazy and supporting. It makes it even more fun to play.''
— Ken McMillan