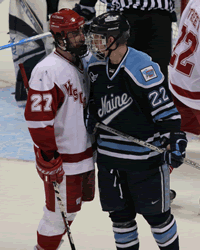 Hamilton can provide grit in the Maine lineup whether or not he's contributing offensively. (Photo by Larry Radloff)
---
Key Statistics: Hamilton has 11 career goals for the Black Bears, numbers that have steadily declined from seven as a freshman to just one last year. One reason for last year's dip was a team suspension for his involvement in an off-ice altercation, but he was reinstated in January and helped Maine reach the Frozen Four for the second time in his career.
What He Does: The 23-year-old Hamilton has a much better shot than his career goal totals would indicate and he can play either center or left wing. At 6-foot, 200 pounds, his strength may be his best asset. He's also got a knack for timing – he scored three of his seven freshman-year goals in the playoffs, and played well for the Black Bears at the 2006 East Regional, chipping in an assist in the Regional Final win over Michigan State.
The Bigger Picture: Hamilton's playoff performance as a rookie had him poised to be a breakout star. His toe was in the crease on the Black Bears' apparent goal against Denver in the title game that year, however, and his luck hasn't seemed the same since – he's scored just one more goal in the 68 games since then than he did in the six prior games. Now, with last season's distractions behind him, he could be ready for the big year that appeared so close entering 2004-05. With the graduation of Greg Moore and Derek Damon, Maine would certainly welcome some additional offensive contributions.
— Nate Ewell