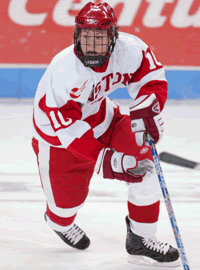 Higgins' hat trick in the NCAA Tournament first round highlighted a solid freshman season.
---
Key Statistics: Higgins was the third-highest scorer of freshman Terriers last season, potting eight goals and 13 assists for 21 points. His loudest point came in overtime of the Hockey East championship, though, when he set up Brandon Yip at the left post for the game-winner on an odd-man rush to give BU its first postseason league championship since 1997.
What He Does: He served as one part of the vital three-headed monster that was the Terriers' third line last year – a line comprised of all freshmen. Higgins, Yip (the Hockey East Freshman of the Year) and Jason Lawrence took their lumps throughout different points of the season, but they really added some valuable depth and a potent scoring punch when the weather got warmer and the stakes grew higher. Higgins is the most creative of the group, and his teammates have often said that he'll usually pull out some sort of acrobatic move during practice to make a few jaws drop. It was that kind of move that earned himself a couple seconds on SportsCenter following the Beanpot semifinals against Harvard.
The Bigger Picture: BU's top line of David Van der Gulik, Brad Zancanaro and John Laliberte traded their helmets and sweaters for caps and gowns last spring so that third line will have to make the tough leap from freshmen who made surprising "icing on the cake" contributions to sophomores who can score consistently. And since head coach Jack Parker wasn't pleased with the way his team came to the ice during the first half of last season, a little leadership from Higgins and the bunch wouldn't hurt, either.
BU head coach Jack Parker on Higgins: "I saw him play when he was a sophomore at Pingree, and I thought he was the type of player who could undress people. I was concerned with his strength on his skates. He would get knocked down any time he was pushed, but [BU strength and conditioning coach] Mike Boyle has done a great job with him, getting him strong on his skates. He is very capable of [highlight reel] plays."
— Jeff Howe