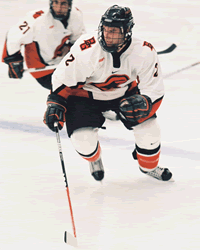 Improvement from Hodgson and the rest of the Falcon defense is key to Bowling Green's hopes.
---
Key Statistics: Hodgson put up 11 points on two goals and nine assists last season, meaning he and Mike Nesdill are the co-scoring leaders among returning Falcon defensemen. Two other notable stats: Hodgson took the fourth-most penalties (23) and had the fourth-worst plus/minus rating (minus-11) on the team in 2005-06.
What He Does: After notching 18 points as a freshman, Hodgson made the CCHA's All-Rookie Team and proved he was a capable offensive defenseman at the college level. But his production took a bit of a dive last season, and he thinks it was because he was trying too hard. You wouldn't think that a kid who grew up in California and Vancouver (he's a dual citizen) would have to convince himself to chill out, but that was the case. Hodgson is most effective when he's relaxed.
The Bigger Picture: Bowling Green's defense was abysmal last year, dragging the entire team to last place in the CCHA despite a wealth of talent up front. If there's to be any kind of turnaround in northern Ohio this season, the blue liners are going to have to tighten up. Don Morrison is gone, meaning Hodgson and Nesdill are the leaders of the pack. Hodgson can play in all three zones, as well as on both special teams, but the direction he imparts on the young defensive corps might be his biggest contribution of the year.
Hodgson, on reports of a falling out between Falcon players and the coaching staff near the end of last season: "It really was blown out of proportion by the media and fans. It wasn't a big deal. At times, last season was very frustrating. But (the rift) was nothing."
— James Jahnke