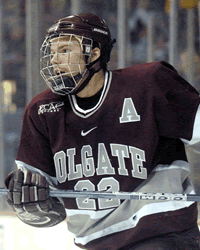 Huculak had just five points last year, but could be due for a big season if he stays healthy.
---
Key Statistics: Huculak's key statistics are 6-foot-5 and 195 pounds – his height and weight. Another key statistic is eight games, which is how many Raider contests he missed due to injury in the 2005-06 season. He had just one goal and four assists in 31 games.
What He Does: Even when Huculak was in the lineup his ice time was limited by constantly nagging injuries. At his best, he's a power forward that likes to do the dirty work. He can attack the net with speed and strength off the wing and will pay the price to help the team score goals.
The Bigger Picture: Three key scorers graduated and left a big void to fill, especially on Colgate's power play units. Huculak is a candidate to fill one of the spots on the power play and his point production should increase as a result. He will battle in front of the net and free up space for players like Tyler Burton, Jesse Winchester, and Marc Fulton.
Head coach Don Vaughan on Huculak: "He is capable of putting up better offensive numbers, but the key is staying healthy. He's a big, strong guy that can play a physical game."
— Joe Gladziszewski