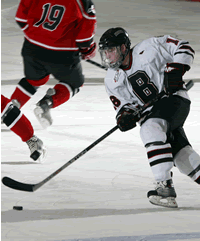 Ihnacak's junior season point total (nine) was less than a third of his production as a rookie (30).
---
Key Statistics: Ihnacak ranks as Brown's career points leader entering this season with 62, but 30 of those points came in his freshman campaign. His point total slipped to 23 as a sophomore and just nine last year when he played in 15 games, none of those after Jan. 20.
What He Does: When he's in the lineup, he's a big-time scorer. For a team that struggled to score goals (ranked 53rd nationally), and was winless in 13 overtime games last season (0-6-7), a boost to the offense will certainly help. If he can regain his rookie form it will help Brown move out of the basement of the ECAC Hockey League and improve on a five-win season.
The Bigger Picture: In his freshman year, Ihnacak shared the ECAC Hockey League's Rookie of the Year award with Cornell's David McKee and was drafted that summer by the Pittsburgh Penguins. As you know, things went much better for McKee over the last two seasons. Ihnacak played in fewer than half of the team's games. When head coach Roger Grillo was asked why Ihnacak wasn't in the lineup he said, "That's Brian's business."
Head coach Roger Grillo on Ihnacak: "I'm expecting some big things from Brian this year. He's a talented kid that can put the puck in the net. I talked to him a couple of weeks ago and he's working hard and excited about the season."
— Joe Gladziszewski