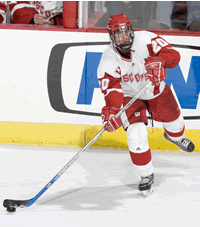 Klubertanz was second among Badger defensemen in scoring last season, trailing only All-American Tom Gilbert.
---
Key Statistics: Klubertanz was a member of the WCHA's All-Rookie team as a freshman with 18 points and 32 penalties. As a sophomore his points rose (to 21), his penalties dropped (to 22), and the season ended with the Badgers hoisting the game's top trophy.
What He Does: Even while manning the Badger blue line, Klubertanz says his game is more suited to offense than defense. With several offensive elements gone from the NCAA title team (including renowned offensive defenseman Tom Gilbert), offensive contributions from a veteran rearguard like Klubertanz may be key if the Badgers hope to repeat.
The Bigger Picture: Growing up just outside of Madison, the Badgers were always Klubertanz's heroes as a child and he dreamed of being just like Mickey Elick one day. Maybe that was because Elick's was the first autograph the young Klubertanz ever collected, or maybe it was because Elick was an average-sized defenseman with a booming shot. While acknowledging the importance of taking care of defensive business, Klubertanz talks about working on elements like vision, outlet passes, handling the puck and burying scoring chances as his personal keys this season. Those, and of course dealing with the attention that comes with being the defending champs. "The guys know we have to step up our game and everyone's going to be gunning for us with that target on our backs," he said. "It's going to be fun."
Wisconsin head coach Mike Eaves on Klubertanz: "Tom Gilbert really started to step to the forefront as a premiere offensive defenseman in the second semester of his junior year. Kyle's going to be a junior this season and we're hoping that he can make that same step. He's got good instincts about the right time to step into the offense and Kyle knows he's always got the green light to join the rush when it's there."
— Jess Myers