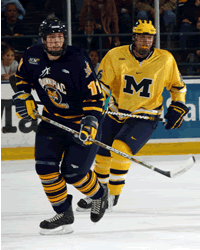 Minnesota's Phil Kessel was the only freshman in the country with more points than Leitch (left) last season.
---
Key Statistics: Only St. Lawrence All-American forward T.J. Trevelyan scored more points among ECAC Hockey League players than Leitch last season. As a freshman, Leitch tallied 14 goals and 31 assists. Compared to other rookies nationwide, his 45 points only trailed Minnesota's Phil Kessel.
What He Does: Leitch is a versatile scorer who can finish, as evidenced by his 14 goals, but he's an even better set-up man. He was a key part of Quinnipiac's top power-play unit with linemates Jamie Bates and Ben Nelson and defensemen Matt Sorteberg and Reid Cashman.
The Bigger Picture: Leitch's stellar freshman campaign is a testament to his natural ability and also to the Bobcats coaching staff for allowing him to play that type of game, instead of trying to convert him into a checking-line winger. Leitch and sophomores Bates and Nelson comprised the team's top line last year, and a strong incoming recruiting class will bolster Quinnipiac's group of young and talented forwards. There should be plenty of excitement in Hamden as the Bobcats open the TD Banknorth Center later this season.
Quinnipiac head coach Rand Pecknold on Leitch: "We'd like to see him keep taking strides toward being a better all-around player. He did that last year and will work at it again this year."
— Joe Gladziszewski