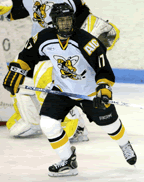 Leroux regained his scoring touch in his second season on defense, tallying five goals and 12 assists for AIC in 2005-06.
---
Key Statistics: Leroux started his collegiate career at forward but was moved to defense early in his sophomore season when injuries hampered AIC's blue line unit. Statistically, the transition was not smooth, as his production dropped from 24 points (7G, 17A) to seven (1G, 6A) and he put up a forgettable minus-11. The turnaround came last season as Leroux posted five goals, 12 assists and posted a plus-one, pretty good for a team that was outscored by 60 goals.
What He Does: Leroux's calm demeanor carries over to his play on the ice. Great vision of the ice, coupled with a fine understanding of the game, allows Leroux to make the right play, especially with breakout passes. His two-way ability on the ice makes him a threat on both ends, and Leroux said he is more comfortable with his decision-making on whether to jump into the offensive play or hold back. Great conditioning allows Leroux to log plenty of shifts, and the addition of 10-15 pounds in the offseason will allow him to play a more physical style.
The Bigger Picture: Leroux, one of six returning seniors, has the admiration of his teammates, who voted him captain for the upcoming season. His leadership and positive nature is crucial for a team which has desires to climb out of the Atlantic Hockey basement.
AIC head coach Gary Wright on Leroux: "He is not a limelight seeker and is very team-oriented. The fact that he was a forward and we put him back on defense … that kind of individual who is willing to make those kinds of changes is the same kind of individual who will not be terribly concerned about stats or notoriety, that kind of thing.''
— Ken McMillan