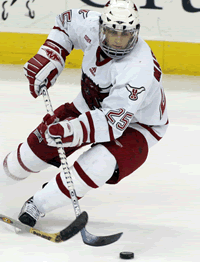 Marshall followed a 33-point freshman campaign with 38 points (12g, 26a) for UNO last season.
---
Key Statistics: Marshall finished third on the Mavericks with 38 points (12g, 26a) last season. You might have heard of the two folks who finished ahead of him: Scott Parse and Bill Thomas. Marshall, a 6-foot, 191-pounder, has 71 points in 79 career games, and he's developed a reputation in Omaha as a clutch performer, tying for the team lead with three game-winning goals last season.
What He Does: Marshall goes about his business rather quietly. He centered Parse and Thomas last year, which undoubtedly supercharged his statistics. But he wasn't just along for the ride. UNO coach Mike Kemp wanted his top playmaker to be the one dishing pucks to his two superstar wings, and Marshall was the obvious pick. His willingness to toil in the shadows of Parse and Thomas, setting them up for goals with precise passes, made him the perfect complementary component to UNO's top line.
The Bigger Picture: Thomas is gone, having signed a contract with the Coyotes, but all indications are that Parse will stay in school and be paired again with Marshall. As Kemp pointed out, there should be no shortage of volunteers to play the right wing on that line. Marshall's faceoff skills and defensive success aren't quite up to par with his offensive talents, but the coaches report that he is constantly improving. That's important, because the centerman is being counted on to fill a good chunk of the void created by Thomas' departure.
UNO coach Mike Kemp on Marshall: "He's very mature, which makes him unusual in that way as a college student. He's an unselfish player who accepted his role and still came to the rink with the same great attitude and great work ethic. He has a lot of poise when the game is on the line. His demeanor, attention and focus stay the same all the time."
— James Jahnke