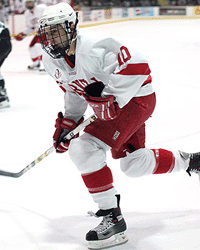 McCutcheon had his best offensive showing with the Big Red last season, scoring nine goals and 15 points. (Darl Zehr photo)
---
Key Statistics: McCutcheon had his best offensive season as a junior with nine goals and 15 points.
What He Does: McCutcheon's bio in last year's Cornell media guide was a bit curious, as the first sentence read, "McCutcheon is a good shooter who is capable of scoring a lot of goals." That assertion wasn't verified by his stat line, which showed zero career goals through his first two seasons. He broke through with nine tallies last year and many of those came in late-game situations. Three of his goals were game-winners. When McCutcheon found his scoring touch it was a bonus. He was in the lineup because of his forechecking and the ability to disrupt the opponent's breakout.
The Bigger Picture: Cornell will be forced to deal with several key losses to the defense, including early departures Sasha Pokulok, Ryan O'Byrne, and goaltender David McKee. The forward position will be a strength for the Big Red and McCutcheon will help lead the way as a senior. If he continues to score big goals it's a bonus. The coaching staff expects him to contribute by forechecking tenaciously and killing penalties. Think Mike Iggulden.
Cornell assistant coach Scott Garrow on McCutcheon's knack for scoring big goals: "He did seem to score a lot of them and his confidence returned from junior hockey. When he got the puck around the net, he thought it was going to go in."
— Joe Gladziszewski