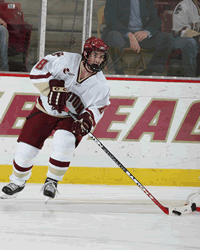 Motherwell tied for fourth among Hockey East defensemen with 19 assists. He also led BC rookies in that category.
---
Key Statistics: Motherwell benefited from BC's fast-paced game last season, and by pushing the puck up the ice to the likes of Chris Collins, Brian Boyle and Stephen Gionta, he recorded 19 assists – the most of any BC freshmen and tied for fourth-most among Hockey East defensemen. He also chipped in with four goals.
What He Does: He hardly looked like a freshman last season, a statement that isn't often made about many Hockey East rookie blueliners. At 5-foot-11 and 195 pounds, he could certainly lay the wood, but he could also provide an offensive spark. A little more than seven minutes into the Eagles' Frozen Four win over North Dakota last season, Motherwell collected a loose puck in the neutral zone and eventually blasted a high slapper over the shoulder of Jordan Parise to stake BC to a 1-0 lead.
The Bigger Picture: The youngsters in the Eagles' locker room grew up quickly last season; maybe none faster than Motherwell. With the way Peter Harrold was looked at to lead the blue line last year following the departure of Andrew Alberts, Motherwell will be asked to do the same because of Harrold's absence. Along the same lines, since Harrold is the only Eagle defenseman to fly away after last year, a group that allowed just 2.26 goals per game in 2005-06 might be even better. Of course, Cory Schneider will have a lot to do with that.
Omaha coach Mike Hastings on Motherwell, courtesy of Hockeysfuture.com: "Brett's decision-making process is one where there isn't a lot of panic in his game. He has the ability to play a quick yet poised game. He might not be 6-foot-2 or 6-foot-3, but he's a wide body that moves real well. He's a powerful skater, and his skating has never been a question. His feet allow him to move east and west, but his strength allows him to play bigger than he is. Brett's body strength is definitely one of his greatest assets. His hockey sense, the ability to see the ice and other people are also some of Brett's greatest attributes."
– Jeff Howe