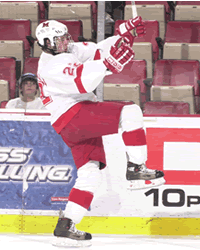 Musitelli expects more celebrations like this during his junior season with the RedHawks.
---
Key Statistics: Musitelli finished in a tie for sixth on the team with 24 points (6g, 18a) during the RedHawks' surprising 2005-06 season. He also took a lot of penalties (23) for a forward, especially one who only measures 5-feet-8 and 180 pounds. Musitelli played just 14 games as a freshman before shoulder surgery ended his season.
What He Does: It's tough to discern from his seven career goals, but Musitelli is in Oxford because he's a goal scorer. He compares himself to Milan Hejduk in that they both have "good hands, a good shot and a nice skating style." The right winger been working on his shot placement this summer, trying, first and foremost, to hit the net at all times and, secondarily, to not shoot right into the goalie. He thinks he needs to shoot low more often, so as to contradict the scouting report on him.
The Bigger Picture: Musitelli doesn't try to hide the fact that he's disappointed by his output halfway through college. He played all of last
season with a dislocated shoulder (not the one that ended his freshman campaign), and had surgery on it after Miami lost to Boston College in the NCAA tournament. That's two shoulder surgeries in two seasons for Musitelli – and a bunch of unfulfilled aspirations. Finally healthy, Musitelli expects to score 15+ goals this season – the number he "should have" had last year.
Quotable: "I have high expectations for myself. I've been playing well, putting the puck on the net, but I want more, and I know the coaches want more. I know why they recruited me, and that's to score goals. I've gotta do something."

– James Jahnke