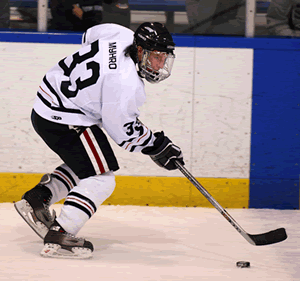 Among Atlantic Hockey rookies last season, only two players scored more points than Chris Myhro, who had 13 goals and 14 assists as a UConn frosh.
---
Key Statistics: Myhro made a significant impact in his freshman season. He was third in Husky scoring with 13 goals and 14 assists, which included five power play goals, one short-handed tally and two game-winners. His 27 points ranked third in Atlantic Hockey scoring for rookies, trailing only Bear Trapp of Sacred Heart (43) and Anthony Canzoneri of Bentley (31). He ranked 18th nationally among rookies at 0.77 points per game. He set the career scoring record for the Fargo-Moorhead Jets in the North American Hockey League, posting 27 goals and 29 assists during his final season.
What He Does: Myhro is a goaltender's worst nightmare because he shoots from all over the ice and varies his release. Now that Tyler McGregor of Holy Cross has graduated, Myhro may possess the best wrist shot in the league,
according to his peers. Atlantic Hockey coaches also deemed him dangerous for his quick release and ability on the breakaway, the benefit from having a quick first step. Strength and a wide stance make Myhro tough to knock off
the puck.
The Bigger Picture: UConn's coaches were a bit surprised with how well Myhro, 21, performed in his rookie season, so the expectations have gone up. He started the season like gangbusters but tailed off in the second half before a late surge at the end – the Husky staff would like to see a bit more consistency. Myhro said he is ready to assume more of a leadership role, although that may not be necessary with a Husky lineup featuring 12 seniors.
Connecticut assistant coach Glenn Stewart on Myhro: "I think he can do some amazing things. Both (head coach) Bruce (Marshall) and I feel he can do some damage and that would be helpful to our program.''
– Ken McMillan