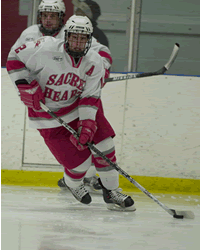 O'Brien is one of the elite offensive players in the college game.
---
Key Statistics: O'Brien has improved his scoring totals each season, leading Sacred Heart the past two years. Five game-winners highlighted his freshman campaign of 14 goals and 13 assists. He ranked fourth in the nation with 13 power-play goals in his second season (18-17—35). As a junior, he ranked sixth nationally in points per game and eighth in assists per contest – his 19 goals and 31 helpers raised his career totals to 51 goals, 61 assists and 112 points. Among Atlantic Hockey returning veterans, O'Brien ranks fifth in points, fourth in goals, fifth in assists.
What He Does: O'Brien is an all-around player who has added a physical element to his game. He is a proven performer on special teams, netting 20 power-play goals and four short-handed tallies. O'Brien has earned the respect of the players and coaches in Atlantic Hockey, voted the player with the most accurate shot, most dangerous on a breakaway and the smartest player. He is also highly regarded in terms of leading a rush and finishing from the slot.
The Bigger Picture: O'Brien said he is honored to be named captain for the coming season, and he realizes his line, with Bear Trapp and Alex Parent, will be counted on for production. Sacred Heart coach Shaun Hannah felt O'Brien blossomed as a leader last season. O'Brien is working on his Masters degree in business administration but Hannah believes he has a legitimate shot at a pro career.
Sacred Heart head coach Shaun Hannah on O'Brien: "He's a complete player. He's just done so well in all aspects of the college hockey experience: academically and athletically and in the community he is well-respected."
— Ken McMillan