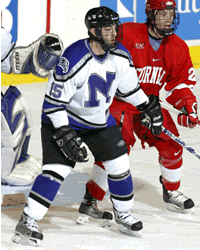 Oliveto's career has coincided with an NCAA Tournament appearance and a CHA regular-season title at Niagara.
---
Key Statistics: Oliveto has never been a big scorer, posting 14, 11 and 10 points in his three seasons with the Purple Eagles. But he has been among the team's top two defensemen in scoring each year.
What He Does: From the moment he arrived on campus, Oliveto has impressed head coach Dave Burkholder with his all-around play. He's counted on in every situation: five-on-five, power play, shorthanded and in the last minute of any game. He's a better skater and puck-mover than his offensive numbers would suggest, and he's solid in his own zone.
The Bigger Picture: There are only four seniors on Niagara's roster this season, and while they haven't selected captains yet, Burkholder said he would "be shocked if [Oliveto's] jersey wasn't a little heavier this year." He's a steadying influence on and off the ice, especially on such a young roster. He learned his polish young: Oliveto grew up in the rapidly improving hockey area of Rochester, N.Y., skating with players like Chris Collins and the Gionta brothers in youth hockey.
Niagara head coach Dave Burkholder on Oliveto: "He's going to play a prominent role this year, and I'm going to need him in the locker room. He's one of those players who is skilled in all areas."
— Nate Ewell