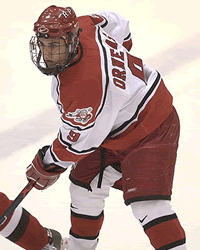 Ornelas' sophomore season included four multiple-point games.
---
Key Statistics: Ornelas finished third in RPI scoring last year with 22 points, more than doubling his freshman total (nine) and trailing only linemates Kevin Croxton and Oren Eizenman. Ornelas had 13 goals.
What He Does: He stays active at both ends of the ice, especially in the offensive zone. He keeps moving, makes himself available and has enough skill to capitalize on those scoring opportunities.
The Bigger Picture: Croxton's graduation leaves a huge scoring burden to fill at Rensselaer and Ornelas will be looked upon to pick up some of the slack. He's tremendously excited about new coach Seth Appert's mindset. Appert will give his players a chance to make aggressive and creative plays, as long as they are responsible in working hard and backchecking if they lose the puck.
Ornelas on new Rensselaer head coach Seth Appert: "The way he wants to play is just unreal. Nobody wanted to start the summer, we just wanted to get playing right away."
— Joe Gladziszewski