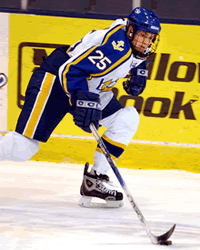 Osman's numbers spiked up as a junior after back surgery in 2004 nearly cost him his hockey career.
---
Key Statistics: Osman tied for second place among Lakers with nine goals last season. He also had nine assists, ranking him fourth on the team with 18 points. His output was strikingly similar two years earlier, as a freshman, when he posted 10 goals and nine assists to lead the squad in scoring under former coach Frank Anzalone's rigid offensive system. Osman's sophomore season was a different story, however, as he produced only two points in 12 games before undergoing season-ending back surgery.
What He Does: Although second-year coach Jim Roque is trying to bring some flair to the Soo, Osman is typical of an Anzalone-generation Laker forward. He's a gritty, hard-working skater who won't wow anybody with his measurables but still can be productive. He has a nice shot, which he plans to unleash from all areas of the ice this year, and he has a knack for hustling his way into the right spots at the right times.
The Bigger Picture: Osman's aforementioned back surgery nearly ended his hockey career two years ago. He had been playing with back pain for nearly half of a decade, but never thought it was serious. Then, while in Omaha to play the Mavericks in December 2004, his back gave out and he collapsed in his hotel room. Unable to move his legs while in the Nebraska hospital, he was airlifted back to Michigan for surgery on two herniated discs that had partially broken into his spinal column. Doctors told him his hockey days might be over, but the surgery went so well that he was able to touch his toes for the first time in years shortly thereafter. He was back skating within three weeks, although he couldn't play full-contact hockey until last September. "It feels good," Osman said recently. "I hope it stays that way."
Osman, who talks like a team captain even though Roque hasn't awarded any letters yet: "I'm just planning to help the team be the best it can. I know that if I play my game and play it well, I'll help the guy next to me, and he'll help the guy next to him, and on down the line. I really think we're coming back up. It's pretty exciting to be in this stage of Laker hockey history."
— James Jahnke