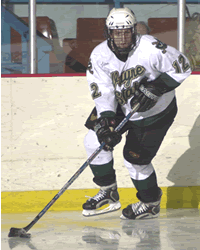 Paskaris was the CHA Rookie of the Year as a freshman.
---
Key Statistics: Paskaris took College Hockey America by storm in 2004-05, recording 12 goals and 33 points in 35 games to earn Rookie of the Year honors. His production fell of the table as a sophomore (6-9—15), but the Warrior coaching staff doesn't fault his effort – an injury that kept him out of six games really plagued him all season long.
What He Does: One reason Paskaris' production as a freshman caught many off guard is that he's not a pretty player: you'll rarely be awed by his skating or his moves. But he's highly intelligent and has good hands. He's got a knack for finishing ugly chances or setting up his teammates.
The Bigger Picture: Wayne State's Greek god wasn't the only Warrior hampered by injuries last year: they never once fielded a full lineup. But Paskaris has been working out all summer and should be at full strength. The Warriors are counting on his return to form, along with Mike Forgie's comeback from two fractured vertebrae that halted what had started as a career year. Paskaris and Forgie are penciled in to center the top two lines and could take the ice together on the power play, counted on to provide offense especially in light of Adam Krug's departure from the team this summer.
Wayne State associate coach Willie Mitchell on Paskaris: "He's very dangerous and very smart around the net – a junkyard dog type. He's scored some of the ugliest goals I've ever seen, but at the end, he's raising his glove. He's always smiling and has a very good attitude. He's a great team guy."
— Nate Ewell