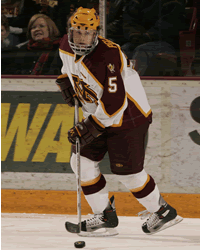 Solid in his own end, Peltier will be looking to build upon an 18-point sophomore season.
---
Key Statistics: A team-leading offensive defenseman in the USHL, Peltier has transitioned to the ironman defensive defenseman role in his first two seasons at Minnesota. He hasn't missed a game since the second outing of his rookie year and is second among Minnesota's returning blueliners offensively after recording a goal and 17 assists last season.
What He Does: Supposedly, defensemen have it worst on Olympic-size ice sheets, with 15 more feet of blue line to cover. But you'll never hear Peltier grouse about the ocean of ice at Mariucci Arena. "I'm a lot more comfortable on the big sheet, with more time to make plays and more open ice to find guys in," he says. The Gophers are loaded with young talent at forward this season, and those rookies should benefit from a veteran defenseman who's looking to feed them the puck.
The Bigger Picture: For the first time in more than four years, there are no players on the Gopher hockey roster who have won a NCAA title. And with the way last season ended, the Gophers who are returning to campus have a renewed focus on making a run at the program's third national crown of the decade. The last time the Gophers made the Frozen Four, in 2005, their coach says the solid play of three rookie defensemen (Peltier, Alex Goligoski and Nate Hagemo) played a huge role in earning the trip to Columbus. Despite his success as the set-up man, Peltier says his shot can always get better, and he'll have the green light from coaches – who call him a great transition defenseman – to shoot more from the point this season.
Minnesota head coach Don Lucia on Peltier: "Derek has been a valuable player for us since day one. He's quietly pretty consistent and doesn't make a lot of mistakes. His strength is being on the big rink and making plays. He's better with the puck than without it."
— Jess Myers