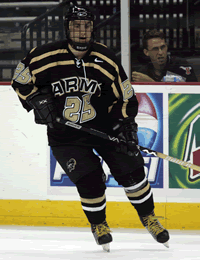 A former defenseman, Podsiad scored seven goals and 19 points in 28 games as Army's first-line left wing last season.
---
Key Statistics: Podsiad was recruited as a defenseman but head coach Brian Riley recognized his offensive skills and moved the sophomore from the blue line to left wing in Army's eighth game last season, a Nov. 5 contest at Canisius. Placed on the top unit with Luke Flicek and Bryce Hollweg, Podsiad tied for third in team scoring with seven goals and 13 assists (one helper came as a blue liner), a step up from the 2-5–7 he posted as a freshman defenseman. Last season Podsiad had three power play goals, two game-winners and one game-tying tally.
What He Does: Exceptional skating skills allow Podsiad to make great passes to his linemates. His versatility as a forward and defenseman led Riley to use Podsiad in every conceivable situation on the ice, even putting him back on the blue line during short-handed situations.
The Bigger Picture: Riley is counting on Podsiad to become a double-figure goal scorer for the Black Knights. Podsiad has modeled his leadership skills after former captain Seth Beamer, which made him a logical choice to be voted assistant captain by his teammates. Beware of his practical jokes, though, pranks which include mischief with empty offices, idle computers and attaching dollar bills to fishing line.
Army head coach Brian Riley on Podsiad: "In his heart, he would much rather play defense but he has never let his personal goals get in the way of team goals. He is certainly one that never puts himself before the team. He is a great kid, but just as importantly, he is a great representative of our program and also the Academy.''
— Ken McMillan