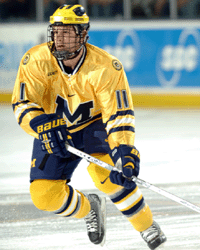 Kevin Porter's point production jumped from 11-14–25 as a freshman to 17-21– 38 last season. (Amir Gamzu/Wolverine Photo)
---
Key Statistics: The quietly efficient Porter last season led the Wolverines with four game-winning goals. He also shared honors with T.J. Hensick and Brandon Kaleniecki as the team's top goal scorer (all three had 17), and his seven power-play goals were second only to Kaleniecki's nine among U-M skaters.
What He Does: It's probably easier to run down the list of things Porter doesn't do for the Wolverines – play goalie, sharpen skates, run down passes from Chad Henne. Seriously, despite the Mariana Trench-like depth Michigan boasts up front, Porter's been among the team's top three forwards in terms of ice time in each of his first two seasons. That's because, assistant coach Billy Powers points out, the former U.S. National Team Development Program member has been one of the Wolverines' top penalty-killers and part of the potent U-M power play since day one – a status he wasn't handed, but earned. "Whatever line he's on, he's the rock," Powers explains. "He's the one that makes everything go in both ends."
The Bigger Picture: Powers says this is the year he and the rest of the Michigan coaching staff expect Porter to make the leap "from productive to prolific," adding that 25 goals and 50 points aren't out of the question. Such projections may seem lofty without the proper context, but examine Porter's numbers from his first two years in Ann Arbor (11-14–25 as a frosh, 17-21–38 last year) and the 25-50 marks fit in to a natural progression. Always a heady player, Porter's physical maturity is finally catching up to his mental acumen for the game. The newfound strength enhance his productivity across the board.
Michigan assistant coach Billy Powers on Porter: "Consistency is a key word when talking about hockey players. He's on an even keel. He may not get the three- or four-point night, but you know what you're going to get shift in and shift out. The attributes he has are what you'd like to see in all your forwards.''
— Mike Eidelbes