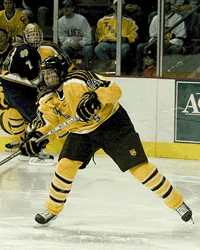 The departure of Sertich, Sterling and Salcido puts pressure on Rau to create even more offense. (Photo by Casey B. Gibson)
---
Key Statistics: The Tigers' top returning scorer had a nine-game point streak and finished with 13 goals and 17 assists as a freshman, earning him the team's Rookie of the Year award. CC historians point out that Rau's 30 freshman points are one better than future Hobey winner Marty Sertich had in his first season with the Tigers.
What He Does: Despite battling a summer ankle injury that kept him off the ice for all of last fall's captains' practices, Rau fit right in as soon as the puck dropped for real. He thrived in nearly all of the many line combinations his coach tried, impressing scouts with his shot and puck-handling ability, and showing marked improvement in his defensive game over the course of the season.
The Bigger Picture: A quick check of the Tigers' stat sheet from last year shows that Rau didn't just lead the freshman class – he was the freshman class (CC's other four rookies combined for a total of two points). Rau heads back to Colorado Springs this fall prepared for a dramatically different role with the teams' top four scorers either graduated (Brett Sterling, Sertich and Joey Crabb) or headed to pro hockey a year early (Brian Salcido). "There will be a whole new face to our team, and we're going to have to approach every game and every practice with a whole different mind-set," Rau says, adding that this year will present opportunities for players that might previously have been overlooked. We'd guess not many opponents will overlook Rau when prepping for a date with the Tigers.
CC head coach Scott Owens on Rau: "Even as a freshman, Chad displayed on-ice leadership and an ability to take charge with the puck. He'll take on a more active role this year, and Chad's got broad shoulders, so we know he can handle it."
— Jess Myers