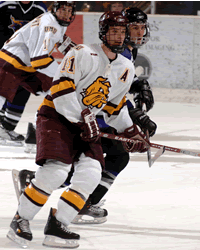 Raymond not only emerged as an offensive leader for UMD as a freshman, but he wore the 'A' as well.
---
Key Statistics: Raymond is the Bulldogs' top returning scorer after a rookie campaign in which he had 11 goals and added 17 assists. He was named to the WCHA's All-Rookie Team and played in all 40 of UMD's games, leading the Bulldogs in shots on goal with 152.
What He Does: Even on the postage stamp of an ice surface at the DECC, Raymond's game is one based on speed and finding open teammates, which is how a rookie led the squad in assists last season. With his credentials as a passer established, Raymond says going strong to the net and getting more pucks over the goal line will be his goals as a sophomore.
The Bigger Picture: Raymond got off to a sizzling start as a college hockey newcomer and led the Bulldogs in scoring for much of the season. But his second half drop-off mirrored that of his team (UMD closed the regular season on a 1-13-0 run) and had Raymond frustrated as the playoffs began. Then came a that March weekend on the Front Range, and an upset of Denver that sent the Bulldogs to St. Paul and denied the Pioneers a chance to try for a third straight NCAA title. UMD's stay at the Final Five was brief (the 'Dogs lost 5-1 to St. Cloud State in the play-in game) but that one game in front of 16,000-plus has Raymond and company inspired to do even better things this season. "It was amazing what our team could do when we decided what we wanted to do," Raymond says. "We got a little taste of success late last year, and it's been good to carry that feeling in the pit of the stomach this summer."
UMD head coach Scott Sandelin on Raymond: "He doesn't get hit much because he's so elusive. Mason is a guy you notice every time he's on the ice. He's shifty and is a really dynamic player, but what impressed me the most is that he never takes a day off. Mason just loves to play the game and always wants to get better."
— Jess Myers