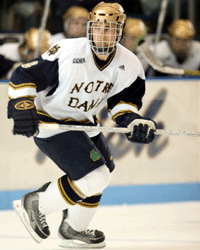 He shoots, he scores: Notre Dame's Josh Sciba buried 17 of the 86 shots he took last season, a 19.8 percent success rate. (Photo by Matt Cashore)
---
Key Statistics: When Sciba shoots, pay attention, because there's a fairly good chance the puck's gonna go in the net. Last season, he scored 17 goals on just 86 shots for a shooting percentage (yeah, they keep track of that stuff in hockey) of 19.8 percent.
What He Does: Sciba ranked among the CCHA's top 10 in both goals and power-play goals, an impressive feat considering the 5-foot-11, 195-pound forward spent virtually the entire season playing center rather than his natural spot on the left wing. Coach Jeff Jackson says that, like all goal scorers, Sciba has the natural instincts and timing to get to the right place and the right time, jumping into holes and positioning himself for rebounds while keeping opponents at bay with his superior strength. Jackson also commended Sciba on his commitment to the defensive responsibilities that come with playing center.
The Bigger Picture: When you've got a guy who scores on one of every five shots he takes, you naturally want him to fire more pucks at the net. To that end, one of Jackson's priorities is to pair Sciba with the team's best center, freeing him from the defensive burden in the middle and hopefully leading to more scoring opportunities on the wing. The Fighting Irish's second-year bench boss adds that Sciba needs to be more productive in five-on-five situations – of his 17 goals last season, 10 came on the power play.
Notre Dame head coach Jeff Jackson on Sciba: "Josh took big strides in his game and his leadership last season. He was productive on the penalty kill and was part of the top power play, he was willing to pay the price to score goals and he made the commitment to playing center – he could've been a liablity on defense but he handled himself well."
— Mike Eidelbes