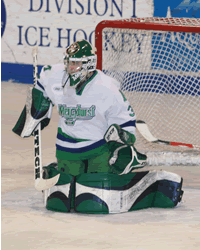 Jeff Zatkoff (Miami) and Jeff Lerg (Michigan State) were the only freshmen to post better save percentages than Small last season (.921).
---
Key Statistics: Small made the most significant impact as a freshman goalie at Mercyhurst since Andy Franck got 28 starts in 2002-03. Small opened 22 games, including the last 12 of the season. His .921 save percentage ranked third in the league and 12th nationally (third among freshmen). His 2.75 goals-against ranked fifth in Atlantic Hockey, and 10th nationally among first-year netminders. Only two freshmen produced a better winning percentage than Small's .690 (14-6-1 record): Jeff Zatkoff of Miami and Ben Bishop of Maine. Small made 53 stops in the double-overtime loss to Bentley in the league semifinals.
What He Does: Small understands his position very well. He is sound technically and plays his angles well. Mercyhurst coach Rick Gotkin compares him favorably to 2002 grad Peter Aubry, who won 55 games for the Lakers.
The Bigger Picture: Maturity and weight training have added some pounds to Small's not-so-small 6-foot-3 frame, which should make him more durable during the course of a long season. Gotkin not only expects Small to pick up where he left off last season but be better.
Mercyhurst coach Rick Gotkin on what Small has to do: "For us to go where we want to go ... we have to have great goaltending, plain and simple ... not decent goaltending but great goaltending."
— Ken McMillan