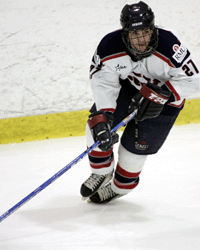 Jake Sparks led College Hockey America defensemen with 12 power-play points in 2005-06.
---
Key Statistics: After scoring a goal and an assist in 17 games during an injury-plagued freshman campaign, Sparks contributed 4-14–18 last season, good for seventh among College Hockey America defensemen in points.
What He Does: Head coach Derek Schooley felt his charges realized they were no longer a new Division I program about halfway through the year, as evidenced by the Colonials' 4-11-1 record prior to Jan. 1 and the squad's 8-9-2 mark after New Year's Day. Sparks was fairly consistent throughout the season, but his strong showing down the stretch (1-8–9 in RMU's last 10 games) mirrored the play of the team as a whole. A smart hockey player with a good shot, he became an integral part of the Colonials' power play attack – his 12 points with the man advantage was tops in the CHA for a blueliner.
The Bigger Picture: It's hard to think of the upstart Colonials as a veteran bunch, but this year's roster boasts four seniors and 15 juniors. Schooley fully expects his team to carry the momentum from the last half of last season into 2006-07 and improve on the 12-20-3 mark of a year ago, and with good reason. The upperclassmen who form the foundation for the young RMU program will be expected to play like juniors and seniors – poised, confident and smart. Sparks will be counted on to continue to grow into his role as the team's primary offensive threat from the blue line and top power-play quarterback (no other Colonial rearguard reached double digits in points last season). Another 16-point jump in production is unlikely, but doubling his goal total from a year ago and flirting with the 20-assist plateau isn't out of the question.
Robert Morris head coach Derek Schooley on Sparks: "Jake matured and grew as a hockey player. He figured out how to be a player at this level. Now it's time for [Jake and his teammates] to take the next steep and see where they can lead us."
— Mike Eidelbes