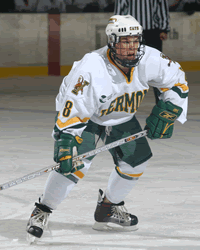 Strong scored the first Catamount goal in a Hockey East game in Vermont history.
---
Key Statistics: Strong finished fourth on the Catamounts in points (24) and fifth in goals (nine) as a freshman, earning the team's rookie of the year award. He centered the team's second line, which by the end of the year was an all-freshman unit along with Peter Lenes and Corey Carlson. He had 102 points in 70 games in his final season with the BCHL's Vernon Vipers.
What He Does: Strong is small (5-foot-9, 170 pounds), but – fittingly by name, if not size – strong on the puck. He's also extremely conscious of playing well at both ends of the rink, moreso than most young players – especially those who had such gaudy offensive numbers in junior hockey.
The Bigger Picture: Don't expect Strong to play a bigger role as a sophomore – "I don't know how many more minutes he could have played," said head coach Kevin Sneddon – but his offensive contributions should rise. Sneddon's confident that he hasn't seen the best of Strong yet. Strong worked hard this summer to build his strength, taking some time away from the family business to train in Burlington. Among Hockey East teams only Boston College, with Brian Boyle and either Benn Ferriero or Nathan Gerbe, can challenge Vermont's 1-2 center combination of Torrey Mitchell and Strong. That duo will lead the Catamounts in all situations this winter. Last year they were on the top power-play unit and killed penalties together as well.
Vermont head coach Kevin Sneddon on Strong: "Right from the start, he didn't play like a freshman. He added a great element to our locker room as well. I don't know when he'll become the official leader of our team, but he's already one of our leaders."
— Nate Ewell