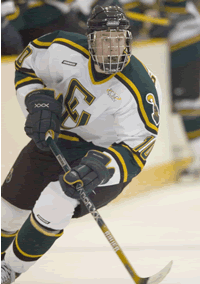 Sullivan tied for the Clarkson team lead with three game-winning goals last season. (Photo by Chris Lenney)
---
Key Statistics: Sullivan finished fourth among Golden Knights in scoring last year with 15 goals and 26 points. He was a 2003 draft pick of the Los Angeles Kings.
What He Does: He is a versatile forward who plays both special teams units for the Golden Knights and can score goals as well as set them up, as evidenced by his 31 career goals and 31 career assists. He was paired with Nick Dodge as Clarkson's top pair of penalty-killing forwards last year.
The Bigger Picture: Sullivan was the jewel of George Roll's first recruiting class at Clarkson in the spring of 2003 and his career thus far has reflected Clarkson's last three campaigns. He's been steady and productive, but has fallen short of the upper tier of ECAC Hockey League forwards.
Clarkson head coach George Roll on recruiting Sullivan: "We really didn't see him play that much and relied on other opinions. A lot of people thought he needed another year (of junior hockey), but we had money available and wanted to take a chance on him. We're glad we did. He could be one of the best players in the league this year."
— Joe Gladziszewski