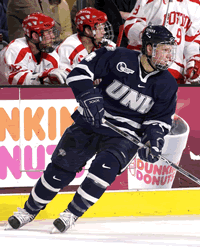 Switzer was a ninth-round selection of the Nashville Predators in 2004.
---
Key Statistics: After potting a goal and 13 assists in his freshman year, Switzer raced out to a fast start last season before tailing off a bit. But he still scored two goals along with 14 assists to prove his scoring worth from the blue line for the second year in a row.
What He Does: With the loss of Brian Yandle, Hockey East's best offensive defenseman over the course of the last three years, Switzer's role on the back end will be even more important for the high-flying Wildcats. He has great vision with the puck, can start the break and will quarterback the power play.
The Bigger Picture: UNH coach Dick Umile will be looking towards Switzer and fellow junior Brad Flaishans to provide the defensive leadership. Switzer should fill Yandle's role this year nicely. While he probably won't match the graduated senior's production on the offensive end, Switzer does play better defense and should develop into a very solid two-way player this year.
UNH coach Dick Umile on Switzer: "Switzer has been a guy who has played a lot of minutes for us back there, has a lot of experience, and we look forward to him providing more of that for us this season. I think he'll produce more and step into more of a leadership role. With the loss of Brian Yandle, other people are going to have to step into that position, and that is a role I think Craig can fill."
— Jeff Howe