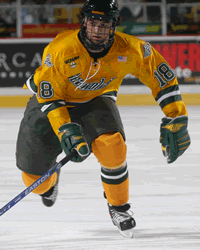 A young Alaska Anchorage team will rely heavily on offensive production from Tarkir, who led the team with eight goals last year.
---
Key Statistics: His second season of college hockey was literally a career year for Tarkir in nearly every category. He led the Seawolves in goals with eight (a career high), had six assists (career high), led the team with three power-play goals (career high) and also set career marks in penalties (19) and penalty minutes (46).
What He Does: Ask Tarkir about his favorite on-ice play and he'll describe setting up in the high slot, getting a pass from behind the net, and firing a one-timer past the opposing goalie. In fact, he estimates that at least five of his eight goals last year were scored that way. On a young team that enters the new season in desperate need of more offense, Tarkir will be called upon to repeat that play a few more times if the Seawolves are to be competitive.
The Bigger Picture: Every year of college hockey has been a set of new experiences for this California kid. He experienced the newness of the collegiate game as a freshman, got used to a new coach as a sophomore, and will be thrust into a leadership role as a junior, with nine freshmen donning the green and gold this fall. Tarkir says that going all the way back to youth hockey in Fresno, he's never before played on the same team more than two seasons in a row, giving him another new experience to prepare for this year. His coach raves about Tarkir's size and defensive play, especially when killing penalties, but Tarkir admits he's rarely thinking strictly defense, even when his team is down a man, and is always ready to switch to offense when said opportunity knocks.
Seawolves coach Dave Shyiak on Tarkir: "Chris is a good energy player who can give us both the finesse game and the physical game. He provides us with some versatility in that he can give us a little bit of everything."
— Jess Myers