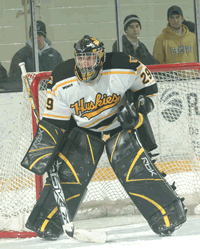 Teslak's .902 save percentage ranked eighth among WCHA goaltenders last year, tops among freshmen.
---
Key Statistics: Teslak was the goalie of record in all seven of the Huskies' wins last season, including their 4-2 shocker at Wisconsin on Dec. 9. Exactly 20 days later, he set a Great Lakes Invitational record, stopping 57 shots in Tech's 3-2 overtime loss to Michigan State in Detroit.
What He Does: Tech's top goaltender is listed at 6-foot-2, and that's before he dons skates and pads, meaning that in full uniform, he fills a lot of the net. Teslak admits that as much as he tries to play the "big goalie" game made popular by the likes of Garth Snow, his No. 1 goal is to not get beat moving laterally and anticipate where the opponents will shoot from.
The Bigger Picture: Young and shorthanded on defense and in goal at the start of last season, the Huskies struggled early. "Until I got up to the pace of college hockey, the puck would end up in the back of the net a lot," Teslak says. But coach and player agree that some experience on the blue line and more confidence in goal made the Huskies a different team by December. "We finally saw what it takes to win in this league and found a way to win some games later in the season," Teslak says. That confidence and experience led to Teslak winning the WCHA's Rookie of the Week award twice and being named the league's top defensive player once. Huskies head coach Jamie Russell, who was an assistant at Cornell before taking over his alma mater's program, says that in Teslak's freshman season he saw a few moves that reminded him of another pretty good goalie from Fernie – former Hobey finalist David LeNeveu.
Michigan Tech head coach Jamie Russell on Teslak: "Goaltending in the past had been a struggle for us, and it was an area where we certainly had to improve. We were about as young as you can be on the back end last year, but Michael kind of took the bull by the horns for us."
— Jess Myers