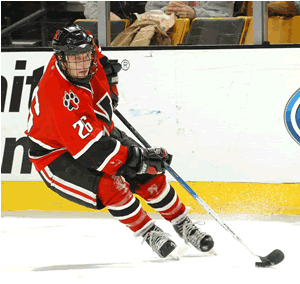 As a freshman, Vitale ranked second on the Huskies in both goals and assists.
---
Key Statistics: Vitale scored eight goals in addition to eight assists last season, making him the second highest goal and point scorer on the Huskies. He really got on a hot streak late in the year, scoring eight points in his last 10 contests before missing the final three games of the season with a sprained ankle. Vitale also led NU with 30 penalties and 71 penalty minutes.
What He Does: Playing a good amount of the season as the first-line center, Vitale really proved that he could lead the young Northeastern squad. He plays with a ton of energy, isn't afraid to get dirty in the corners and has the ability to light the lamp. One thing is for certain; everyone who watches the Huskies will notice Vitale on the ice.
The Bigger Picture: As a top-line forward, Vitale needs to convert more scoring chances, but he showed that offensive aptitude before his season-ending ankle injury in 2005-06. Northeastern is still in a rebuilding mode under second-year coach Greg Cronin, so Vitale won't be asked to save the world on his own but he does need to continue playing at a veteran level to lead the pups.
Northeastern head coach Greg Cronin on Vitale: "I've always said that when you're coaching a team, you have to have players who are what I call 'lighting rods.' They have energy, and they play with energy and conviction. To have a freshman play that way for [31] games despite being in the middle of a frustrating season reflects a bright future both for Joe and for the program."
— Jeff Howe