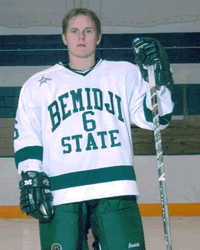 Weselowski played 16 more games and recorded 19 more points last season than he did as a freshman.
---
Key Statistics: The Beavers' seventh defenseman as a freshman, Weselowski scored one assist in 21 games during his rookie campaign. Last year, he charted two goals and 18 assists in 37 games. Among CHA blueliners, he ranked third behind teammate Andrew Martens and Wayne State's Steve Kovalchik.
What He Does: Weselowski made the leap from a role player to the Beavers' no. 2 defenseman last season after spending the previous summer in Bemidji getting stronger – physically and mentally. "When a kid sees that transformation in his body," BSU head coach Tom Serratore said, "it's good for the confidence." True that, as the native of Pilot Mound, Manitoba (the hometown of Hockey Hall of Famer Black Jack Stewart) displayed an all-around game that should make him the cornerstone of the Beavers' blue line for the next two years.
The Bigger Picture: Serratore says Weselowski is a "second-wave defenseman" who likes to join in the rush when the opportunity arises, skates well, makes smart plays and is a great defender. Given the career arc that BSU players normally travel – check the team's statistics from the last half-dozen or so years, and you'll note that the majority of them peak as juniors and seniors – Weselowski's best days appear to be ahead. If he can improve his shot, which is a focal point of his preparations this off-season, "it's almost like he's the total package," Serratore says.
Bemidji State head coach Tom Serratore on Weselowski: "Our program is geared toward upperclassmen. Typically, it's a waiting game until maturation sets in. Riley stayed back and worked on his strength and elevated his game. Now, we're hoping he takes the next step."
— Mike Eidelbes