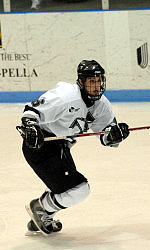 A Hockey East all-rookie team selection last season, Cody Wild scored 21 points from the blue line for Providence.
---
Key Statistics: Wild's six goals were the most by a freshman defenseman in Hockey East last season and among rookie rearguards, only Boston College's Brett Motherwell topped his 21 points. Wild earned a spot on the league's all-rookie team for his efforts.
What He Does: According to the Friars' second-year head coach, Tim Army, Wild embodies the quick, aggressive style he wants his team to play. His most valuable attribute is his hockey sense – Wild instinctively knows when to take chances offensively and when to fall back. He also has an uncanny knack to recognize opportunities as they develop, be it a passing lane to an open teammate or a gap in defensive zone coverage which allows him to manuever for an open shot.
The Bigger Picture: Army says Wild's game "is helping us redefine our energy," indicative of his role as the Friars' catalyst, and he'll be asked to be even more active offensively this season. Wild will play more minutes – his summer training regimen was built with more ice time in mind – but he's also worked to get stronger. Not only will an increase in strength help Wild's skating, shooting and passing, but Army also hopes it'll enable him to win more battles for pucks, thereby creating more scoring opportunities off the rush. Still, Wild is a defenseman and though he's adequate in his own end, Army says he needs to improve on both positioning and efficient puck pursuit.
Providence head coach Tim Army on Wild: "You can do things [to] challenge guys to see the game differently in respect to offensive situations. But some guys are instinctive ... and see the ice well. They're able to process information in a second and make a decision. That's the greatest attribute Cody brought to our club."
— Mike Eidelbes