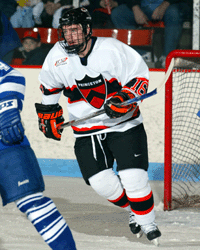 Wilson missed six games last season due to injury and illness, but still ranked second among Princeton skaters with 10 goals.
---
Key Statistics: Wilson was third on the Tigers in scoring with 21 points and ranked second on the team with 10 goals. He posted those numbers despite playing only 25 games. He missed the first four games of the year after suffering an ankle injury during training camp and didn't play in the playoff series against Clarkson due to mononucleosis.
What He Does: Wilson's best physical attributes are his quickness and vision. He also has a great work ethic and leadership qualities. Don't be surprised if he eventually captains the Tigers.
The Bigger Picture: Guy Gadowsky enters his third season as Princeton's head coach this year and Wilson is one of the team's young impact players that will be responsible for building the Princeton hockey program over the next three years. If he can stay healthy throughout the year, Wilson could be an impact player in the ECAC Hockey League.
Princeton head coach Guy Gadowsky on Wilson's personality: "When we were recruiting him we were most attracted to his attitude. Every teammate loves him and I'd love to have him in the locker room every day whether he was the equipment manager or a hockey player."
— Joe Gladziszewski