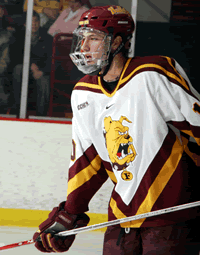 Zarb, who posted a minus-9 plus/minus rating last season, added 15 pounds to his 6-foot-4 frame during the offseason.
---
Key Statistics: Zarb had no goals and 10 assists in 29 games during his rookie campaign. More disappointing than his failure to find the net, he said, was his minus-9 plus/minus rating, which was third-worst on the team. He took only 31 shots on goal, third-fewest among Bulldogs with at least 25 games played.
What He Does: It's an interesting situation. Zarb is an offensive defenseman who doesn't try to score very much. The Flyers draft pick was a forward until being switched to defense in the USHL. He's still learning the nuances of manning the blue line, especially one-on-one coverage. The FSU coaching staff wants him to fire the puck much more often than he does, particularly because he is slated to play the point on the power play. He was up there at times last year, too, but was always trying to make the perfect pass instead of letting 'er rip.
The Bigger Picture: Though blessed with greater skill than a good deal of his teammates, Zarb was a healthy scratch for a handful of games near the end of last season because he was getting physically manhandled. He had shoulder surgery during his last year of juniors, which prevented him from doing enough upper-body work in the weight room and rendered him ineffective in the corners and in front of the net as a freshman. He hopes the 15 pounds he's added this off-season (up to 215) will solve the strength issue without affecting his skating. If so, he'll probably see time on Ferris' penalty kill and in late-game scenarios, two situations he usually watched from the bench (or the stands) last year.
Zarb, on being a healthy scratch: "It was hard to swallow, but I understood. I was getting beaten in the corners, and I was a minus-(nine). You can't put me out there. I accepted it. They were right, but it really hurt my confidence. That's something I didn't have at the end of the year. But I'm coming in with a different mind-set this year, and I'm feeling good."
— James Jahnke