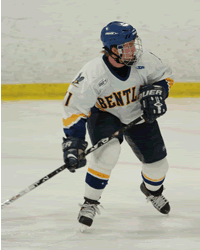 Zwicky was among Bentley's leaders in goals (10) and points (20) last season.
---
Key Statistics: The 23-year-old senior has had an abbreviated college career. He played 13 games for Clarkson in 2002-03, producing a goal and five assists. He left school and played for the Brockville Braves of the CJHL in 2003-04, tallying 14 goals and 20 assists, making him a point-per-game player. Zwicky had to sit out a year at Bentley per transfer rules. Last season he was third on the team in goals scored (10) and fourth in scoring (20 points). He had three power play goals, three game-winners and one game-tying tally. He ranked in the league's top 20 for penalty infractions (24) and minutes (67).
What He Does: Zwicky is a fluid skater, a playmaker and has one of the most accurate shots in the league, say the coaches in Atlantic Hockey. His knowledge of the game makes him an asset on Bentley's power play and penalty killing units, and he does not force plays.
The Bigger Picture: Zwicky was moved to Bentley's top line late last season with Anthony Canzoneri and Dain Prewitt and is expected to start there again. Soderquist envisions Zwicky being a 30-point scorer. His team-first beliefs should benefit him as team captain this season. A fourth-year grad student, Zwicky speaks English, German and French, which should help him out should he pursue a pro career in his native Switzerland.
Bentley head coach Ryan Soderquist on Zwicky: "Marc has brought a lot of consistency in terms of being a two-way player and also having a pretty high level of skill. He can make any line better. I think this will definitely be a breakout year for him.''
— Ken McMillan