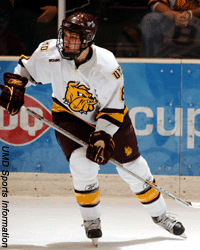 Akins scored all seven of his goals last season in UMD's first 18 games.
---
Key Statistics: Playing in 38 of the Bulldogs' 39 games as a rookie, Akins led UMD freshmen in goals with seven and tied for team lead among rookies with 10 points.
What He Does: It was almost inevitable that Akins would play for a college with a canine mascot when one hears the scouting reports he generated during his USHL days. Bulldogs coach Scott Sandelin recalls a coach boasting about the Akins' energy, saying, "Drew is like a golden retriever puppy. You blow the whistle and tell him to stop and he just keeps going and going."
The Bigger Picture: While playing center in 30 of his 38 appearances for the Bulldogs last season, Akins was content to leave the goal scoring to others. He says defense and ensuring his line doesn't allow a goal has always been his top priority when the puck is dropped, and said he's completely comfortable playing the defensive forward role on a shutdown line. But with the top three scorers gone from a ninth-place team, Sandelin says his hope for Akins' sophomore campaign is for him to add some more offense to his game. Akins has spent a good chunk of the summer in Duluth working at hockey camps while logging some hours perfecting his stickhandling and his shot in hopes that he can add the offensive touch his coach is looking for.
Minnesota Duluth coach Scott Sandelin on Akins: "I don't think Drew gives himself enough credit offensively. He's a pretty complete player, and he's one of a few guys we're definitely going to count on to step up their offensive game. I see him playing a major role for us, especially on the penalty kill."
— Jess Myers