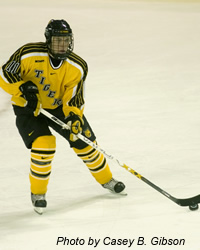 Connelly emulated former Bloomington Jefferson and Minnesota standout Mike Crowley.
---
Key Statistics: Connelly finished second among Tiger freshmen (and first among rookie defensemen) offensively with 17 points. He earned a spot on the Tigers' top man advantage unit right away and notched 10 points there as the team finished second in the league in power play efficiency.
What He Does: One of the most recent successful products of the renowned Bloomington Jefferson High School hockey program (which has produced NHLers like Tom Kurvers, Ben Clymer, Tom Gilbert, Mark Parrish and Toby Peterson, among others), Connelly makes his living as a puck-moving offensive defenseman.

The Bigger Picture: One of the more unexpected impact newcomers in the WCHA last season, Connelly says that he was surprised as anyone to play in as many games and get all the important ice time he did as a freshman. His offensive game flourished via accurate breakout passing, strong skating and a quick-release shot. But if Connelly has his way, that rookie success was just an appetizer. He's spent the summer concentrating less on ice time and more on work in the weight room determined not only to add girth and strength, but to plug some admitted weaknesses in the defensive side of his game. As a kid, Connelly tried to do everything on and off the ice (including the way he tucked in his sweater) just like Jefferson star offensive defenseman Mike Crowley, who finished his college career as an All-American at Minnesota. That's not a bad example to follow.
CC Tigers coach Scott Owens on Connelly: "Right from the start, Brian was a key player on a power play until that had lost (Marty) Sertich, (Brett) Sterling, and (Joey) Crabbe and was still able to finish at the top of the league. He stepped in right away and was very productive. It kind of surprised us with how quickly he adapted and the progress he made."
— Jess Myers