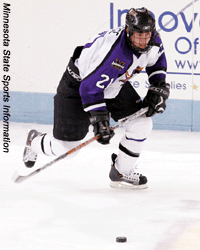 Berge's father, Mark, played 107 games on defense for North Dakota between 1976-81.
---
Key Statistic: Berge started his sophomore campaign with six goals in his first seven games and shared the team lead in goals with seven goals in the Mavericks' first 13 contests before breaking his shoulder blade in practice Nov. 28. His six power-play goals ranked third among Mavs skaters.
What He Does: Until the injury cost him eight games in December, the 5-10, 170-pound Oklahoma City native was on track enjoy a breakout season offensively similar to
classmate Jon Kalinski, who scored 27 points in 37 games last season. And while his production last season tipped rather one-sidedly toward the goals column, Berge is a
skilled playmaker as evidenced by his final season with the Lincoln Stars of the United States Hockey League — he ranked third in the circuit with 44 assists, and his 57 points tied for the league's 12th-best total.
The Bigger Picture: Coach Troy Jutting is counting on Berge and Kalinski to fill the
void left by the graduated Travis Morin, who scored 58 goals and 133 points in 151
career games, with good reason — seniors-to-be Joel Hanson and Matt Tyree are the only upperclassmen up front. They'll set the pace for a promising group of sophomore forwards, and Jutting is also high on the incoming freshman class.
Minnesota State coach Troy Jutting on Berge: "He's got a great release [on his shot] ... a quick release. He creates his own scoring opportunities, and I think he's the type of kid who can step into the role of creating opportunities for his linemates.
— Mike Eidelbes