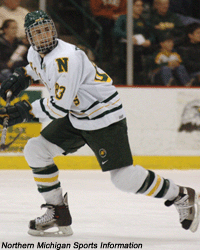 With Darin Olver and Mike Santorelli (and their 255 combined career points) out of the picture, sophomore Matt Butcher assumes the role of Northern Michigan's top center.
---
Key Statistic: One year after finishing second in the British Columbia Hockey League in scoring with 101 points in 57 regular-season games, the son of longtime NHL defenseman Garth Butcher totaled just four points — all assists — in 40 games as a freshman.
What He Does: Don't let last year's numbers fool you. Based on his eye-popping numbers in junior hockey, the imposing center is a skilled scorer and playmaker. Coach Walt Kyle says Butcher is among the college game's best faceoff men, and adds that his greatest strength is his character, a trait he inherited from his father, who logged 14 seasons in the bigs.
The Bigger Picture: Being such a highly regarded recruit, one would expect a certain disappointment with Butcher's scoring output as a freshman. Not so, says Kyle, who points out that Butcher's production last season mirrored that of his first season with the BCHL's Chilliwack Chiefs — he tallied 25 points in 48 regular-season games — and expects his fortunes in Marquette to follow a similar career arc. Besides, Kyle points out, Butcher was generating "tons of scoring chances" during the second half of the year but wasn't getting any bounces and, as the team's third-line pivot, logged very little power-play time. With All-American Mike Santorelli and Darin Olver, the Wildcats' top two centermen from a year ago, out of the picture, Butcher is expected to fill the void.
Northern Michigan coach Walt Kyle on Butcher: "We're looking to him as a go-to guy. We think he can be a guy who jumps from four points to 30 points this season. I think he'll surprise people with his effectiveness right out of the gate this year."
— Mike Eidelbes