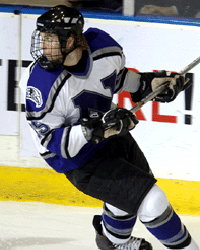 Caruana's 11 even-strength goals shared the team lead with prolific scorers Ted Cook and Les Reaney.
---
Key Statistics: Caruana tied for the team lead in even-strength goals (11), and is the only returning senior forward on the team. He has missed just one game in three seasons. His offensive numbers have improved in each of his three seasons from 16 to 36 to 38 points.

What He Does: He takes key faceoffs in all three zones, playes on the power play, and is on the top penalty-killing unit. He showed a flare for the key moment early in the season against Holy Cross with a late second-period goal to propel the Purps back from a 4-1 deficit for an overtime win. He also had a clutch goal and assist in 2-2 tie with rival Bemidji State along with several other primary late-game assists during the campaign.

The Bigger Picture: The senior will be counted on this season to move on to the top power-play unit in place of CHA Player of the Year Sean Bentivoglio, who is now with the NY Islanders organization. The question may not be whether or not he will mix with Ted Cook, Les Reaney, and Chris Moran, but who will replace Caruana on the second unit.
Niagara coach Dave Burkholder on Caruana: "He's the most complete player we have, and has been dependable since his freshman year. We will still be relatively young, so we look for him to be one of the leaders in the locker room and make his senior season special."
— Warren Kozireski