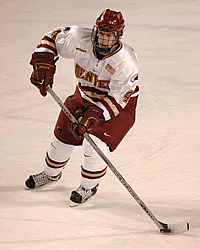 Butler hopes to lead the Pioneers to the Frozen Four, which will be played right across town at the Pepsi Center this spring.
---
Key Statistics: After a freshman season spent in the shadow of Hobey winner Matt Carle, Butler led the Pioneers blueline corps offensively in 2006-07, notching 10 goals and 27 points. On the defensive side of things, Butler led the team with 110 blocked shots.

What He Does: If the college experience is all about personal growth, Butler has definitely been doing something right since coming to Denver in 2005. Long regarded as the prototypical lanky defenseman, Butler will step onto the ice this fall a full 30 pounds heavier than he was as a freshman. He was determined to add an extra physical element to the things that he had already done well — blocking shots and breaking up opponents' 2-on-1 rushes.

The Bigger Picture: Despite all of his college's renowned professors and degree programs, Butler admits that the chance to learn from elite defensemen like Carle and Brett Skinner was one of the biggest reasons he ended up with a locker in Magness Arena. He fell short of one college goal last spring, as the Pioneers' late-season struggles meant he didn't get a chance to skate in the Frozen Four in his hometown. Instead, Butler visited his parents over the Easter holiday and watched from the stands at the Scottrade Center as his old USHL teammate Tim Kennedy hoisted the top trophy for Michigan State. With the next Frozen set to be played a 16-minute train ride away from the DU campus, Butler will lead a Pioneers defensive unit that's clearly focused on grabbing the school's third NCAA title of the decade in its own backyard.
RPI head coach and former DU assistant Seth Appert on Butler: "He's the ultimate two-way defenseman. He can and does provide offense, but he does it with minimal risk to his game. When he contributes offensively he does it by making great decisions. Chris is a rare defenseman that runs the first power play, but can also match against the other team's top line."
— Jess Myers