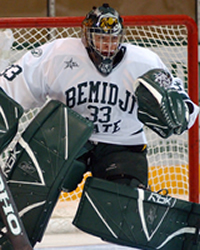 Climie was a big part of Bemidji State's CHA title in 2006.
---
Key Statistics: Without his normal goaltending partner for most of the season, he played in all but four games for the Beavers. Climie allowed nine goals in his first two regular season appearances, but rebounded to go 5-1-3 in his next nine.

What He Does: Compete. He led the conference in goals-against average and was second in save percentage. He also led College Hockey America in winning percentage, going 8-5-5 despite the team being short-handed more minutes than at even strength and having the weakest offense in the league. At the end of his freshman season, Climie helped force the University of Denver into overtime in the first round of the NCAA Tournament, making 45 saves on 49 shots.

The Bigger Picture: Climie posted double-digits in victories as a junior, after faltering a bit his sophomore year. This will be the first time the senior will enter a season knowing he is the number one goaltender. With one season remaining, he already ranks second in program history in shutouts (7), fourth in goals- against average (2.57), and 10th in minutes and saves.
Bemidji State coach Tom Serratore on Climie: "He was our guy last year, and like the team, he had a strong first half and struggled a bit the second half. He was a big part of our championship a few years ago, struggled his second year, but won the job back again last year. This year, he'll compete with Orlando Alamano and recruit Matt Dalton from (Des Moines) the USHL."
— Warren Kozireski