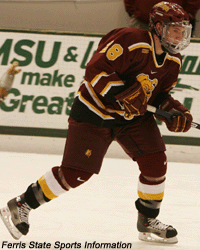 Ferris State was 8-2-1 last season in games in which Brendan Connolly scored a goal.
---
Key Statistics: After scoring one goal and six assists as a freshman, Connolly notched 11 goals and 11 assists last season. He shared the team lead in goals with then senior Matt Verdone. No other Bulldog scored more than nine goals.
What He Does: Scores in bunches, for starters. He put up 2-4—6 over a six-game stretch early in the season, recorded 2-1—3 during a three-game span to start December, added 4-2—6 in seven games from Jan. 20-Feb. 3, and totaled five points in wins at Notre Dame and Lake Superior State on consecutive Fridays late in the year. A team such as Ferris State — which prefers to play a grinding, physical style — hardly seems like a good fit for the 5-foot-6, 160-pound Connolly. As evidenced by his 105 penalty minutes in his two seasons with the Bulldogs and his willingness to challenge anyone wearing the opposite-colored sweater, however, he's wired much like ex-NHL super pest Theoron Fleury. "He plays bigger than he is," says FSU captain Adam Welch. "He knows what he's gonna do, and he doesn't let people stop him."

The Bigger Picture: Among CCHA teams, only Alaska, Northern Michigan, and Bowling Green scored fewer goals than Ferris State last season. Connolly and sophomore Cody Chupp (8-15—23 as a freshman) will be expected spark the Bulldogs offensively and pilot a power play that ranked 10th in the conference. Despite that responsibility and a reputation as a top-flight scorer — Connolly is the leading scorer in the history of the Alberta Junior Hockey League's Brooks Bandits — he's hardly a one-trick pony. Connolly, who can play either center or left wing, spent most of his junior career on defense. Welch believes Connelly's blue-line detail enhanced his ability to battle bigger bodies.
Ferris State defenseman Adam Welch on Connolly's emergence as a scorer: "Confidence plays a big part in everybody's game. Last year, [Brendan] got chances on the power play, and he capitalized on the chances. It just seems to happen that once you get one goal, you start getting more opportunities. You score once, and then you're getting a backdoor pass every game. But he worked hard for the goals. When you see that hard work paying off, it's easier to keep working."
— Mike Eidelbes