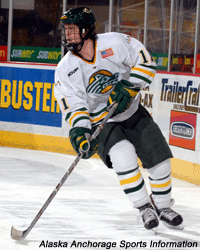 Two's a Crowder: Paul Crowder's younger brother, Tim, is a junior forward for defending national champion Michigan State.
---
Key Statistics: Crowder's 24 points last season were the most by a Seawolf rookie since 1992-93 (Alaska Anchorage's first go-round in the WCHA) when the immortal Petri Tuomisto scored 26 points.
What He Does: At 6-foot-3 and a hair over 200 pounds, Crowder uses his long reach and bulk to protect the puck on the cycle, which gives him the time and space to make plays in traffic, and he's deceptively quick, giving him the ability to play a finesse game. UAA coach Dave Shyiak threw Crowder — who, as a 21-year-old last season was among the country's oldest rookies — into a variety of situations early in the year, and Crowder handled the duties with aplomb.
The Bigger Picture: Despite a 10th-place finish in the WCHA last year, the Seawolves have plenty on which to build. UAA won the season-opening Nye Frontier Classic, beat rival Alaska thrice to capture the Governor's Cup, swept a series from eventual Frozen Four participant North Dakota, and sat two games above .500 on New Year's Day before losing 13 of its last 17 games.
Crowder, naturally, will be crucial to the Seawolves' continued growth. Specifically, Shyiak would like to see the forward, who typically looks to pass first and shoot second, to take the puck to the net and fire away. He'll also encourage Crowder to use his skating ability to gain more speed through the neutral zone on the rush, forcing defensemen to make a hasty decision — either step up and have Crowder run you over or sidestep you, or drop back and give him the time and space to create scoring chances.
Alaska Anchorage head coach Dave Shyiak on Paul Crowder: "His greatest attribute is consistency, and he's very, very coachable. He's great on faceoffs, is a good penalty killer, has solid defensive awareness and is an effective fore-checker. He can play the finesse game, but he also likes to hit [and] play a physical brand of hockey."
— Mike Eidelbes