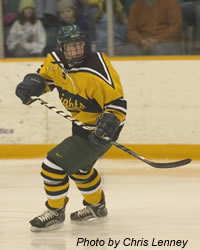 D'Alvise has been a consistent player and point producer, but bigger things are expected of him for 2007-08.
---
Key Statistics: D'Alvise has been a steady point producer and reliable forward for Clarkson over his first two seasons. He had 25 points as a freshman and 26 points last year. His 16 goals as a sophomore tied for third on the team.
What He Does: D'Alvise is a steady forward and another weapon in Clarkson's deep group of talented forwards. He's part of the reason that opponents can't focus on shutting down one or two Golden Knight line combinations. With added strength this year, D'Alvise could move up into the 35-40 point range and help offset the early departure of last year's leading scorer, Shawn Weller.

The Bigger Picture: ECAC Hockey followers won't think of D'Alvise as readily as other top Clarkson forwards like Steve Zalewski, Nick Dodge, and Weller, but without D'Alvise and players like him, the others wouldn't have produced the point totals they did. Clarkson's prolific offense, which ranked eighth nationally last year, comes from a balanced attack. D'Alvise is another one of those guys that is always dangerous and keeps the pressure on the opposition
Clarkson head coach George Roll on Chris D'Alvise: "It's hard to describe what he does, because he does everything so well. Chris is a guy that just loves the game and loves to play hockey. He stays on the ice after every practice. I really think he's poised for a breakout season."
— Joe Gladziszewski