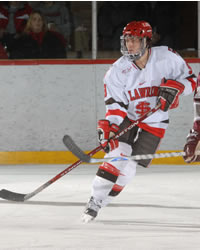 DeVergilio is among the most skilled forwards in ECAC Hockey.
---
Key Statistics: DeVergilio ranked second on the Saints in scoring with 32 points last season, and led the team with 23 assists. This followed a freshman year in which he scored 14 goals and had 25 points.
What He Does: He is a point producer and showed a knack for lighting the lamp as a freshman and for being a playmaker as a sophomore. His quick first step and great hands bring fans to the edge of their seats and defensemen to the heels of their skate blades. DeVergilio had three four-game point streaks last year including one in February during which St. Lawrence went 4-0-0. They eventually captured the Cleary Cup for winning the ECAC Hockey regular-season title.

The Bigger Picture: Point production isn't the only part of DeVergilio's game that will be important to St. Lawrence this year. The Saints lost a solid group of senior leaders including co-captains Kyle Rank and Drew Bagnall. As a junior, DeVergilio will be expected to take on a bigger leadership role.
DeVergilio's outlook for the Saints: "We have a good group of core guys coming back, including our captains (junior defensemen) Shawn Fensel and Jared Ross. Even though I won't be wearing a letter, I feel like I have to step up and be one of the leaders among the forwards. We can be as good, if not better, than we were last year."
— Joe Gladziszewski