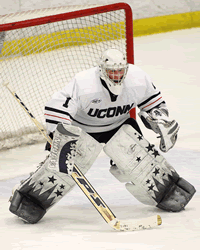 Erickson, who had played for Sioux City of the USHL, was thrown into a starting role quickly at Connecticut.
---
Key Statistics: In his first collegiate outing, Erickson lasted just five minutes, 40 seconds as the Michigan Wolverines tallied three times. In his next outing, Mercyhurst tallied six goals in 38 minutes – again Erickson was
pulled. Connecticut head coach Bruce Marshall admits now that he threw his freshman into the fire to see what he was made of – fortunately, Erickson was not lost forever. He was given the starting nod after Christmas and held it for 18 of the final 19 Husky contests. His 2.92 goals-against average ranked 11th nationally and third in Atlantic Hockey among rookie netminders. He surrendered two-or-fewer goals in eight contests.

What He Does: The 6-foot Erickson has all the attributes of a leading goaltender: he faces the puck well; he squares well; he sees the puck through traffic; and his feet and hands are good. Marshall said Erickson is easy going and does not get rattled easily.

The Bigger Picture: For the first time in five seasons Marshall knows he has a goalie ready to go when camp begins. "Now he has to perform," Marshall said. With Erickson in net and a veteran defense corps, the Huskies won't have to rely so much on their young offensive lineup, giving the forwards time to develop.
UConn head coach Bruce Marshall on Erickson: "I think the best thing about Beau Erickson is his positive attitude and his positive outlook on hockey for the past year of the program. ... The team has a lot of confidence when they hear Beau is starting."
— Ken McMillan